Preoccupation with the emotive, passionate qualities of material, subject and method, a desire to emphasize expression over realistic representation.

To depict more than objective reality, and focus on subjective emotions and responses that subjects evoke, through distortion, exaggeration, primitivism and fantasy, as well as a vivid, violent, or dynamic application of formal elements.

Fascination with the intrinsic expressive qualities of the materials, leaving behind traditional elements of composition and using the material naturally and intuitively to evoke sensual, violent, dynamic, mysterious, and lyrical element.

Computational Expressionism sustains the spirit of these artists by seeking out the natural expressive language of computers, to spawn an eloquent freedom, a vernacular of individual style and a level of visceral understanding of the medium.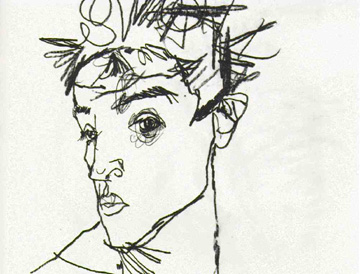 Drawing by Egon Schiele

Painting by Willem de Kooning